After a holiday of adjustment and recharging, Harrow Chongqing finally reopened on a sunny autumn day. It's time to start a new academic year! The castle-like campus is as new as the start. All teachers and students are ready to begin. We are ready to welcome the new academic year with the best of intentions! Former students and teachers meet again. The campus is also flooded with new faces. They mark the start of a new journey – the first time, the first day, the first…
The morning of the first school day was warm and bright with the sun shining on the smiling faces of the teachers. Every member of staff on campus arrived early at the school gates to greet the children with a smile. "Welcome home!", Mr Joseph Westwood, the Headmaster of Harrow Chongqing, and Ms Kong Jing, Chinese Principal, waved, greeted and welcomed the students to the school at the entrance. Later form tutors and BCPs led a series of Icebreaker activities, and the new students gradually let go of their nerves and quickly settled into the warm and welcoming family of Harrow Chongqing.
After the ice-breaking activity, the whole school gathered in the auditorium for the flag-raising ceremony and the opening of the academic year. Mr Joseph Westwood, Headmaster of Harrow Chongqing, gave the first speech under the national flag, saying that we all have many firsts. However, as members of Harrow Chongqing, we should demonstrate the courage, honour, humility and fellowship of Harrovians in all our learning and curriculum activities. We hope that in this new semester, every student will be mindful of Harrow's four values, and with the Harrow leadership attributes, we will challenge the difficulties ahead, and move forward with determination, undaunted by setbacks!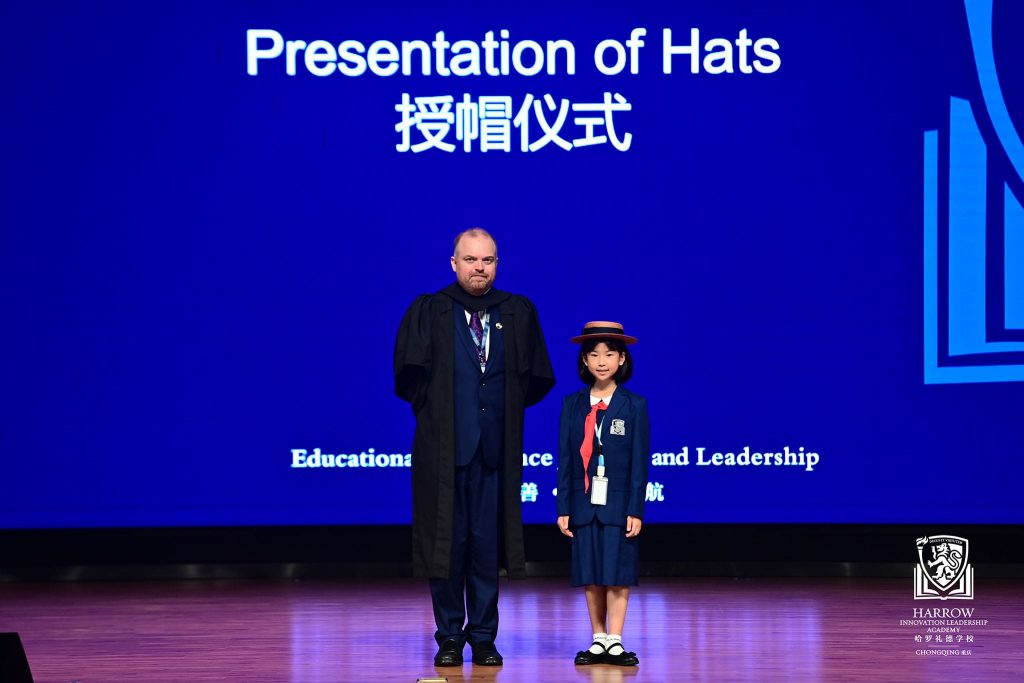 The assembly is over and the students are finally starting their first class of the new academic year at Harrow! With new expectations, Harrovians will be joining their teachers in the sea of learning, munching on new fruits of wisdom and embracing new journeys and challenges with great enthusiasm.
"Educational excellence for life and leadership." This is the Motto and the goal of AISL Harrow Schools. We look forward to the extraordinary moments to come, and hope that they will inherit the 'Harrow Heritage'. Moreover, they will learn and practise the core values of Harrow – Courage, Honour, Humility and Fellowship. Let's forge a better world together!